As of 2019, Leicester has a population of around roughly 357,000, meaning there is a lot of competition when trying to book venues. However, we at Helm have compiled this list to show you some venues that may not be the most popular but are perfect for any event. We have chosen these venues to show you, a future event planner, that the city of Leicester has such a variety of venues that you can use for your event.
We have kept in mind that the closer your venue is to local public transport links, the higher the popularity and turnout of your event, as the best venues are the ones that are the easiest to access. Have a look through the list and hopefully, it will give you some inspiration in your quest for that perfect venue and make sure that you check out the venues on the links provided.

Location: Leicester outdoor pursuits centre, Loughborough Road, Leicester, LE4 5PN
Capacity: Up to 30 guests
Price: £22 per hour or £176 per day
Travel: 3-minute walk to red hill circle bus station or 3-minute walk to the new bridge bus station
This outdoor pursuit centre is the perfect place to either hire a room for a crucial meeting, seminar, conference or workshop. It's also a great place to take your team to get away from the office and complete a day of team-building exercises to strengthen your team's productivity and connectivity further. Adventure is the name of the game at the Leicester outdoor pursuits centre, so bring your guests here and take them on an adventure through the jungle of ideas for the future.
2. Holiday Inn Leicester – Wigston, Oadby suite

Location: Holiday Inn Leicester Wigston, 299 Leicester road Wigston Fields, Leicester, LE18 1JW
Capacity: 25-60
Price: £75 per hour or £225 per day
Travel: 2-minute walk to Highgate drive bus station or a 6-Minute walk to Palmerston way bus station
This venue is excellent for crucial meetings, workshops, seminars and product launches. Its professional décor and atmosphere make it perfect when you want to show how much you mean business without feeling like you're stuck in the office. As the room is flooded with natural lighting, you don't feel squashed in a broom cupboard but instead tucked away in a comfortable space in which you can walk out after your event and feel the productivity emanating from your guests.

Location: 2B St Martins, Leicester LE1 5DB
Capacity: up to 10 guests
Price: £15 per person
Travel: 2-minute walk to town hall square bus station or a 4-minute walk to St Nicholas circle bus station
An escape room is the best place to take your guests on an exciting multi-room team-building exercise in specially designed rooms. Reactorvate allows you and your team of scientists to break into an abandoned powerplant within rural Russia to find a second reactor and uncover the plant's secrets. Taking your guests to Escapologic is a great way to bring your team together and take your team away from the constraints of the office to create a new and more productive team for the future

Location: 6 St. Martins square, Leicester LE1 5DF
Capacity: 18 guests maximum
Price: £6 per person for lunchtime events
Travel: 2-minute walk to town hall square bus stop
The Bodega Leicester give your guests a south American style venue that will leave a lasting impression that will stick with your guests. This venue is perfect for presentations, workshops, meetings and corporate lunches/dinners. A place to allow your guests to get serious work done but without the formality of the office, which can often constrain the imagination. The Bodega creates a productive and forward-thinking atmosphere which will, in the long run, boost the turnout and popularity of the next event you throw.

Location: LCB depot, 31 Rutland St, Leicester LE1 1RE
Capacity: max four guests
Price: £8 per hour
Travel: 7-minute walk to Leicester train station and 2-minute walk to Charles street bus stop
The courtyard room at LCB Leicester is a great space to host intimate workshops, meetings and brainstorming sessions that get you and your guests out of the office and into a new creative, forward-thinking space.  The old gallery is a stunning light glass cube that will flood your event with gorgeous natural light. The interior has a few artistic pieces; however, the space will act as a blank canvas for you and your guests to use to create brand new and profitable ideas and designs that will increase growth and productivity for your event/business.
6. The cinema at the queen of Bradgate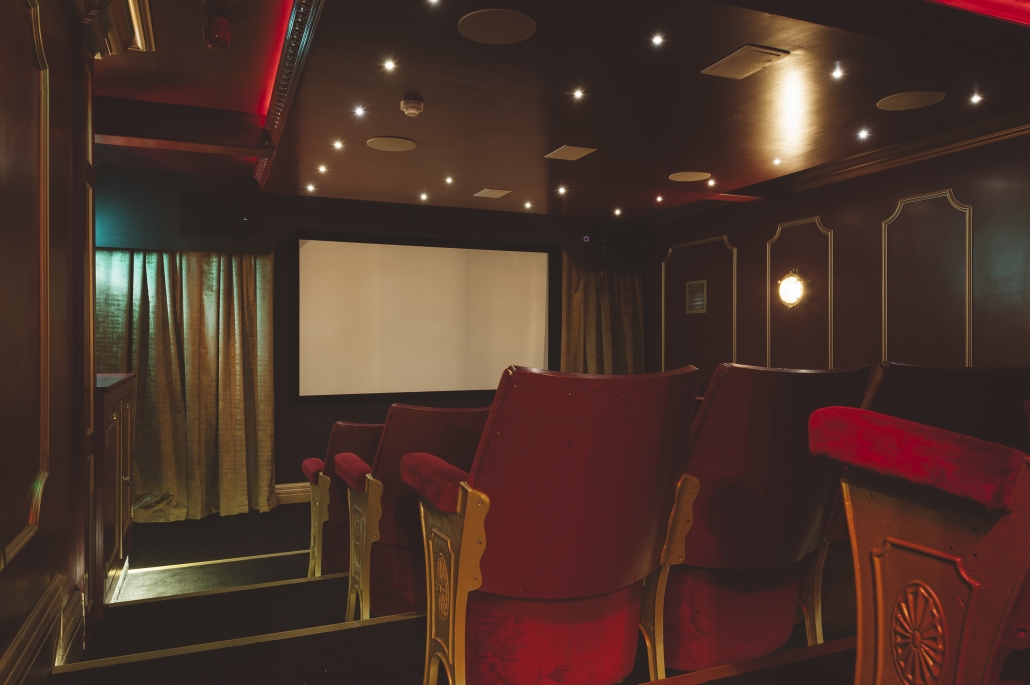 Location: 79 high street, Leicester LE1 4JB England
Capacity: up to 24 guests
Price: £14.95 per person
Travel: 2-minute walk to St Nicholas circle bust stop and a 15-minute walk to Leicester train station
Wow, your guests by showing off your presentation, DIY movie or a brand-new product concept in this ultimate cinema venue. Any film buff would feel right at home within your very own private screening room in which you can host private screenings of your favourite films with your famous people, host product launches, meetings, seminars, and workshops. The vintage aesthetic of this screening room will give your guests a feeling of luxury that will open up their minds to anything and everything you have to offer at your event. The queen of Bradgate is dedicated to making your event perfect, so if you click the link above and enquire directly with them, they can tailor your day to be Oscar-worthy.
7. Studio 5 at Create Studios Leicester

Location: Clarendon Park,120a Hartopp Road, Leicester, LE2 1WF
Capacity: up to 60 guests
Price: £ 34 per hour or £280 per day
Travel: 1-minute walk to Lytton road bus station to a 4-minute walk to Adderley road bus station
Create studios Leicester is a blank canvas that is perfect for any event you need to throw as an event planner. The open space and creative atmosphere are ideal for workshops, seminars, product launches and exhibitions. As the name suggests, creativity is the name of the game at the studios, so its best, most unique selling point is that the venue breeds creativity and productivity, which will translate to your guests and inspire their inner creativity and passion. Which, in the long run, will show the success of your event.

Location: Upperton Road, Leicester, LE2 7AU
Capacity: up to 150 guests
Price: £200 per evening (7-12pn)
Travel: 3-minute walk to Windermere street bus station and another 3-minute walk to Lidl bus stop
The Leicester rowing club is perfect for allowing your guests to have a relaxing evening in a comfortable yet versatile space that encourages your guests to mingle without that overwhelming feeling of being cramped. The club is perfect for corporate parties, product launches, workshops, seminars and private parties. Your evening at the rowing club will feel memorable with the friendliness of the rowing club staff, who will help you tailor the venue to your events specific needs. That paired with a beautiful view of the river Soar will make for a relaxed evening with great views and great laughs.
9. Roddick room @ Pera Business Park

Location: Nottingham Rd, Melton Mowbray, LE13 0PB
Capacity: up to 26 guests
Price: £175 full day / £90 per half day
Travel: 4-Minute walk to Welby lane bus stop and 4 Minute-walk to cattle market bus stop
Pera business park knows the requirements needed for events such as meetings, seminars, workshops and conferences, and will strive to tailor the venue to make your event special. The formality of the business park no way translates to stiff but instead allows you to get out of the office and head to another venue. Creating an atmosphere of creativity that will encourage you to smash out any challenges that may come your way. The rooms are also not just dark, cramped and tucked away as some venues you may go to seem but instead flooded by natural light and have an open and spacey layout allowing you to get business done but without trampling on anyone's toes.
These venues are just a tiny taste of what's available within the city of Leicester. These nine venues give you an insight into the wide range of spaces to consider for your future event. At Helm, we know that nothing beats that feeling of finding the perfect venue that speaks volumes about yourself and the style of the event you're running.
Make sure to click on the links for each venue to enquire directly with the venue, and don't forget each venue has multiple other spaces available that might suit you better. So, get out there and find your next venue for your bound to be a successful event.