With Manchester being ranked the 5th largest city in the UK and containing a population of approximately 540,000, hosting an event here will surely be hard on the wallet. However, we at Helm have compiled this list of 9 free/low-cost venues in the city of Manchester to help you find the venue your event deserves at a reasonable price.  
Manchester is a city full to the brim with culture, history and architectural beauty. So, the city's fast pace can be overwhelming, even for the most seasoned event planner, so we chose venues that are closest to the city centre, allowing easier access to your event through public transport, which will boost the turnout and popularity of your event. If you're struggling to find an affordable yet professional venue, look no further, we've got you covered.  
1. The Burgess Room @ Work. Life Manchester

Location: Work. Life Manchester, Core building, Brown Street, Manchester, M2 1DH
Capacity: 10 guests 
Price: £70 per hour 
Travel: 12-minute walk to Salford central station and a 5 min walk to st peters square tram stop 
Suitable for:
The Burgess room @ work. Life Manchester is an excellent venue for small intimate gatherings such as small business meetings, group brainstorming sessions and workshops. The burgess room isn't a large venue; however, this room is nowhere near cramped. And with its contemporary design, your guests will have optimal room to create new and forward-thinking cutting-edge ideas thanks to your forward-thinking event.  
Work. Life Manchester also has multiple venues onsite, so it would be worth checking them out through the link and enquiring directly with the venue to find the best possible space for your event. 
2. Private Room 12@ The Edwardian Manchester

Location: Free Trade Hall, Peter Street, Manchester, M2 5GP
Capacity: 12-30 guests 
Price:  on enquiry
Travel: 9-minute walk to Manchester Oxford Road station and a 6-minute walk to st peters square tram station 
Suitable for: 
Private room 12 is tucked away, although that doesn't mean a stuffy old room with no windows! This venue is full of natural daylight that will allow you and your guests an uninterrupted space, with a sleek and formal design perfect for business meetings, seminars, product launches and workshops. This space will maximise the turnout of your event with its professional atmosphere, which will complement your event's professionalism and boost your guests' productivity.  

Location: 9-century street, Manchester, M3 4QL
Capacity: 50 -150 
Price: £60 per hour (min. 3 hours hire) 
Travel: 1-minute walk to Deansgate station and a 1-minute walk to Deansgate-Castlefield tram station 
Suitable for: 
With a brick ceiling and a comfy, relaxed atmosphere, the Attic and Study at Lock 91 is an excellent venue for product launches, seminars, workshops and informal gatherings. The Attic and Study is a versatile and spacious venue for any event that you can throw at it with two seating areas. In this venue, your guests can relax in an atmosphere that feels comfortable and will breed interest in your event. This old 19th century, Victorian lock keepers cottage is a small independent but with the passion and ability to make your event massive, boosting both turnout and the success of your event. 
4. The Victorian Walled Gardens @ Eleven Didsbury Park

Location: Eleven Didsbury park, Didsbury park, Didsbury village, Manchester M20 5LH
Capacity: 80 guests
Price: £300 per day (12:30- 22:00)
Travel: 8-minute walk to East Didsbury station  
Suitable for: 
Although this venue isn't right within the city, it's a great, tucked away venue for any type of event, be it: seminars, product launches, networking events, business parties, or a small conference; the walled gardens can suit any event. Its relaxed, spacious and comforting environment makes it an excellent backdrop for any event you want to host. The Victorian walled gardens is a perfect venue for an outdoor event that takes you and your guests away from the strains of a simple office room and gives you the space to breathe and let your creativity and productivity run wild. 

Location: Deansgate, Manchester, M1 5LH
Capacity: up to 560 guests 
Price: £150 min spend
Travel: 2-minute walk to Deansgate station and around a 1-minute walk to Deansgate-Castlefield tram station 
Suitable for:
With Lola lo Manchester, you can give your guests an authentic tiki experience that would be perfect for workshops, product launch parties, team getaways, and business parties. The space is versatile for anything you can throw at it. Lola lo pull out all the stops when trying to make your event memorable for your guests. They can provide entertainment ranging from firebreathers to sax players; they indeed can provide an experience that will leave your guests stunned. The venue also has a bar on site that can offer a wide range of premium spirits and their very own tiki cocktails. 
6. Event and Workshop Space @ Wellington Studios

Location: Pollard Street, Manchester, M40 7FS
Capacity: up to 40 guests
Price: £25 per hour 
Travel: 5-minute walk to Butler street tram station and a 4-minute walk to Cambrian street tram station 
Suitable for: 
This quaint little workspace is a great venue to host your creative event. Wellington studios breathe creativity, so why not host your training day or workshop at this space? The event and workshop space's open plan layout means that your space has the room for your guests to expand their artistic ideas and creations without cramping on others space. This venue is then only enhanced by the natural light that will flood your event, which will help the venue look even more spacious. Wellington studios also provide tea and coffee making facilities and a breakout area if you need to take a break from all the creating. 
7. Meeting Room 1 @ Colony Jactin House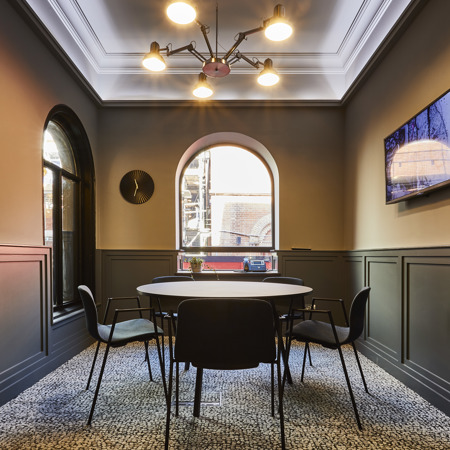 Location: 24 Hood street, Ancoats urban village, Manchester, M4 6WX
Capacity: 6 guests 
Price: £24 per hour 
Travel: 12-Minute walk to shudehill tram station 
Suitable for:
Meeting room 1 is a small room perfect for those small and intimate crucial business meetings. The room is small; however, it never feels cramped but rather an ideal amount of space for the number of people needed for the meeting you're hosting. Room 1 was explicitly designed in mind for meetings and has the right technology for all of your needs. Host your next meeting here, and you'll leave knowing you accomplished the right tasks within the right space. 
8. Roof Terrace @ Colony Jactin House

Location: 24 Hood street, Ancoats urban village, Manchester, M4 6WX
Capacity: up to 180 guests 
Price: £420 (9:00-17:00)
Travel: 12-Minute walk to shudehill tram station 
Suitable for:
With a great view and open space, the roof terrace at jactin house is an excellent venue for an event with a large group of guests. With the spaciousness, the roof terrace is perfect for corporate parties, product launches, seminars or networking events as it allows your guests to intertwine and mingle in an open space. This space is a great place to hold your next event as it inspires creative thinking and relaxing your guests in an area that they can feel comfortable in, which in the long run will boost turnout and the popularity of your next event. 
9. Side Room @ Twenty Twenty-Two  

Location: Dale street, 20, Manchester, M1 1EZ
Capacity: up to 100 guests 
Prices: from £200 per half day 
Travel: 1-minute walk to lever street tram station and an 8-minute walk to Manchester Piccadilly  
Suitable for:
The side room at twenty twenty-two is a great place to take your guests for a casual and entertaining event that will bring out their creativity as well as their inner child. The ping pong bar is a relaxed area for your guests to mingle and engage in the odd game of table tennis to spark up some friendly competition. Still, other than that, it's a great place to host events such as corporate parties, team getaways, workshops and product launch parties. The side room has a modern aesthetic that will allow your guests to be as productive at your event as they can but without the constraints of feeling like they're stuck in an office.
We chose Manchester for this list due to its abundance of venues that would be perfect for any event you wish to throw. Sadly we couldn't put every great venue Manchester has, but instead, we picked these venues to show you a more comprehensive range of venues that Manchester can offer. Whether it is your first event or you're an event planning master, these venues are perfect for anything you could throw at them. We at Helm always try to show you what's available. Still, we love seeing when event planners who use our services find a venue that they have found themselves to encourage exploration of new venues and unique events.