Home to the Golden Gate Bridge and famous for its Bay Area, San Francisco is one of the most famous cities globally. It's a cultural and financial center – offering the pleasures of music, art, and good food as well as the urban side of commercial business.
San Francisco is a popular tourist attraction known for its famous landmarks and eclectic mix of architecture, making it a thriving place of diverse and colorful events. If you are an event planner looking for budget-friendly venues in San Francisco, here's a guide to help you.
1. Bond Bar
Location:       3079 16th Street, San Francisco, CA 94110
Capacity:       200
Price:              $50/hour (Minimum of 2 hours)
Nearest Bus:  1 minute from 16th St & Valencia St

Located at the heart of The Mission on 16th Street, Bond Bar is a craft cocktail bar providing delicious beverages and a chilled-out atmosphere in the middle of a busy neighborhood. The Bond Bar sits on a property built in the 1800s and has since been rebuilt and remodelled over the years, adding to its rich architectural history.
You can book the entire space exclusively or the semi-private room, inclusive of a bartender and staff service. Included also in booking this place are a mounted projector, sound systems with aux jack for music, and WIFI access.
2. Neyborly
Location:       1255 Battery Street, Suite 200, San Francisco, CA 94111
Capacity:       36
Price:              $82/hour or $650/day
Nearest Bus:  2 minutes from Sansome St & Filbert St

If you're looking for the perfect spot to host your company offsite or small conference events and presentations, then this Neyborly meeting space is the one you need.
It's a flexible space nestled below the iconic Coit Tower and next to Levi's headquarters. It features a kitchenette, heating and AC, tons of power outlets, and large whiteboards. Space rental also comes with a 75" monitor with connectivity available via Bluetooth, Apple TV, and HDMI.
Neyborly also offers other meeting space options, retail pop-up venues, and production spaces, depending on your event or budget requirements. You can check out their website if you want to see more short-term rental spaces.
Location:       Mission District, San Francisco, CA
Capacity:       18
Price:              $195/hr
Nearest Bus:  1 minute from Bryant St & Mariposa St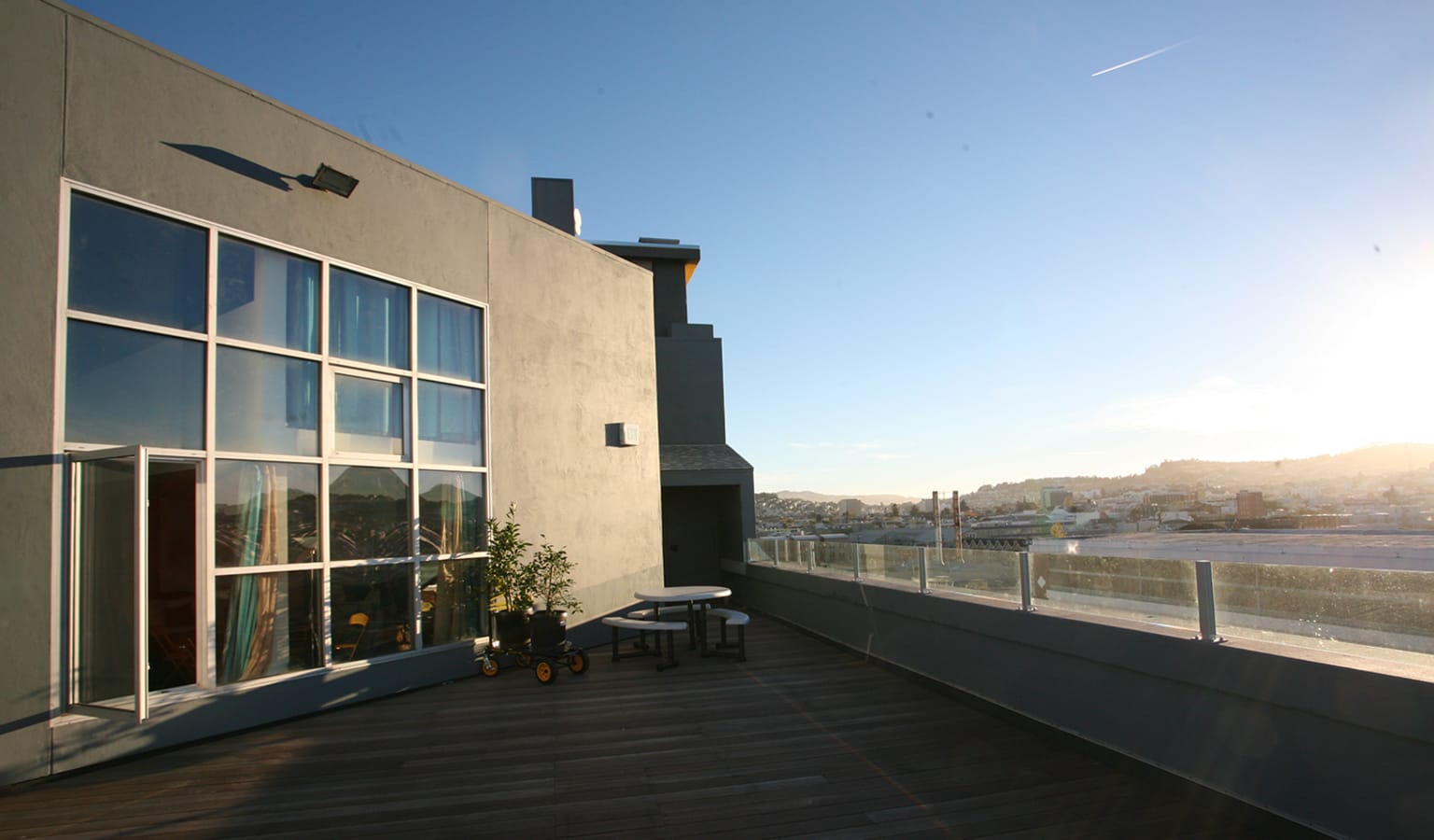 This loft-space features high ceilings and windows, giving it abundant natural light and an excellent flow of fresh air. Contemporary paintings surround the area with window and door access to the adjacent deck for viewing purposes, giving a visual feast for you and your guests.
This penthouse is ideal for summits, workshops, and collaborative and creative sessions. Hosting a corporate event here is also a great idea if you want your guests to be relaxed and feel the retreat this place offers.
4. Potrero Hill Garden Pavilion
Location:       Potrero Hill, San Francisco, CA
Capacity:       8
Price:              $150/hr
Nearest Bus:  6 minutes from Bryant St & 20th St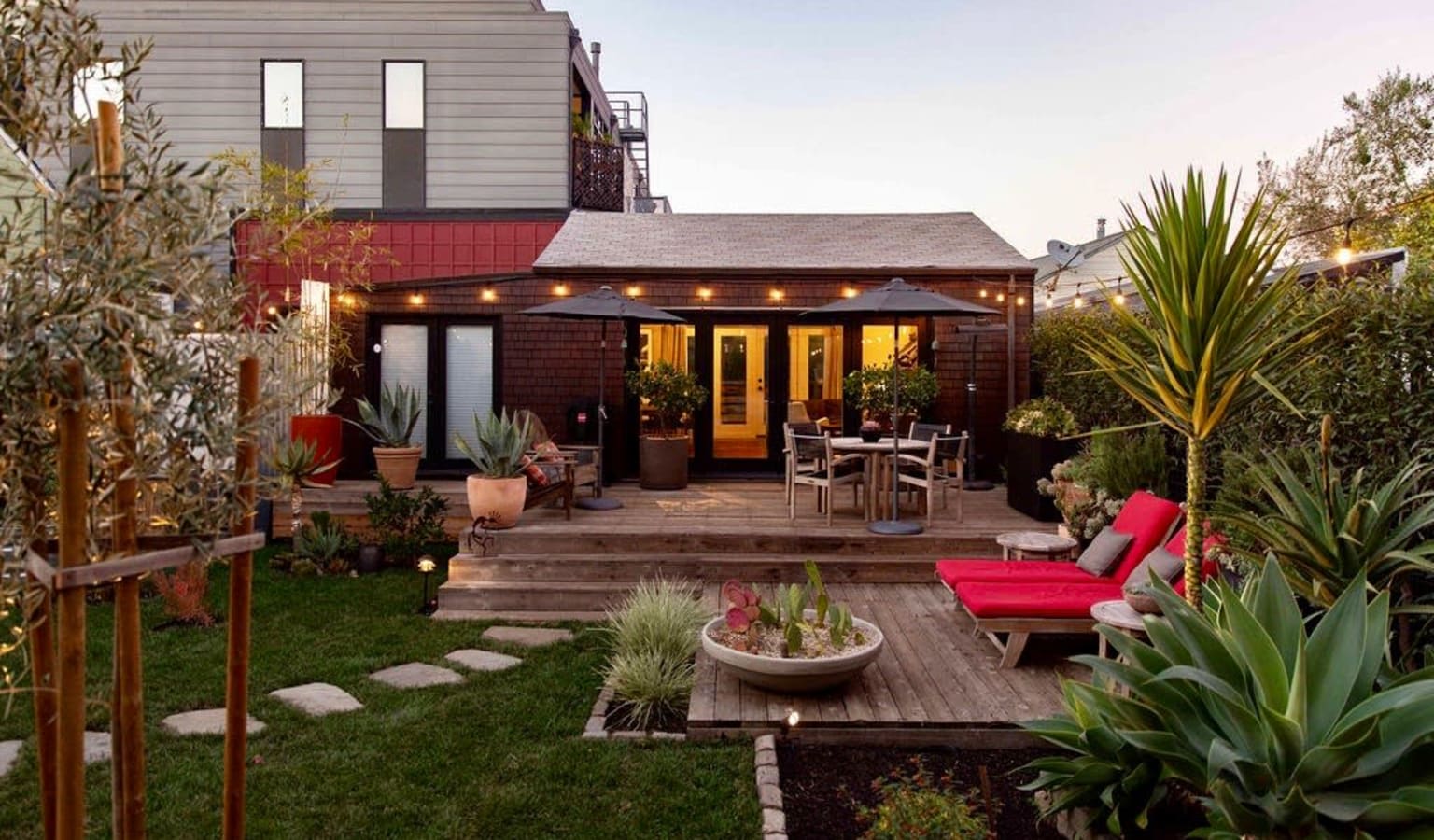 Are you a corporate event planner looking for a relaxing mini-retreat? Then book The Garden Pavilion.
It's a comfortable and elegant business offsite space that is sure to meet your casual event requirement up to the most polished presentation needs. Booking this space, you'll have the entire Pavilion and multiple decks all to you and your guests. You can also get to enjoy the view of the expansive garden. It's business meeting nature – and it's a sure way to get your guests feeling both relaxed and motivated.
5. Studio 2
Location:       Lower Nob Hill, San Francisco, CA
Capacity:       15
Price:              $75/hr
Nearest Bus:  3 minutes from Bush St & Hyde St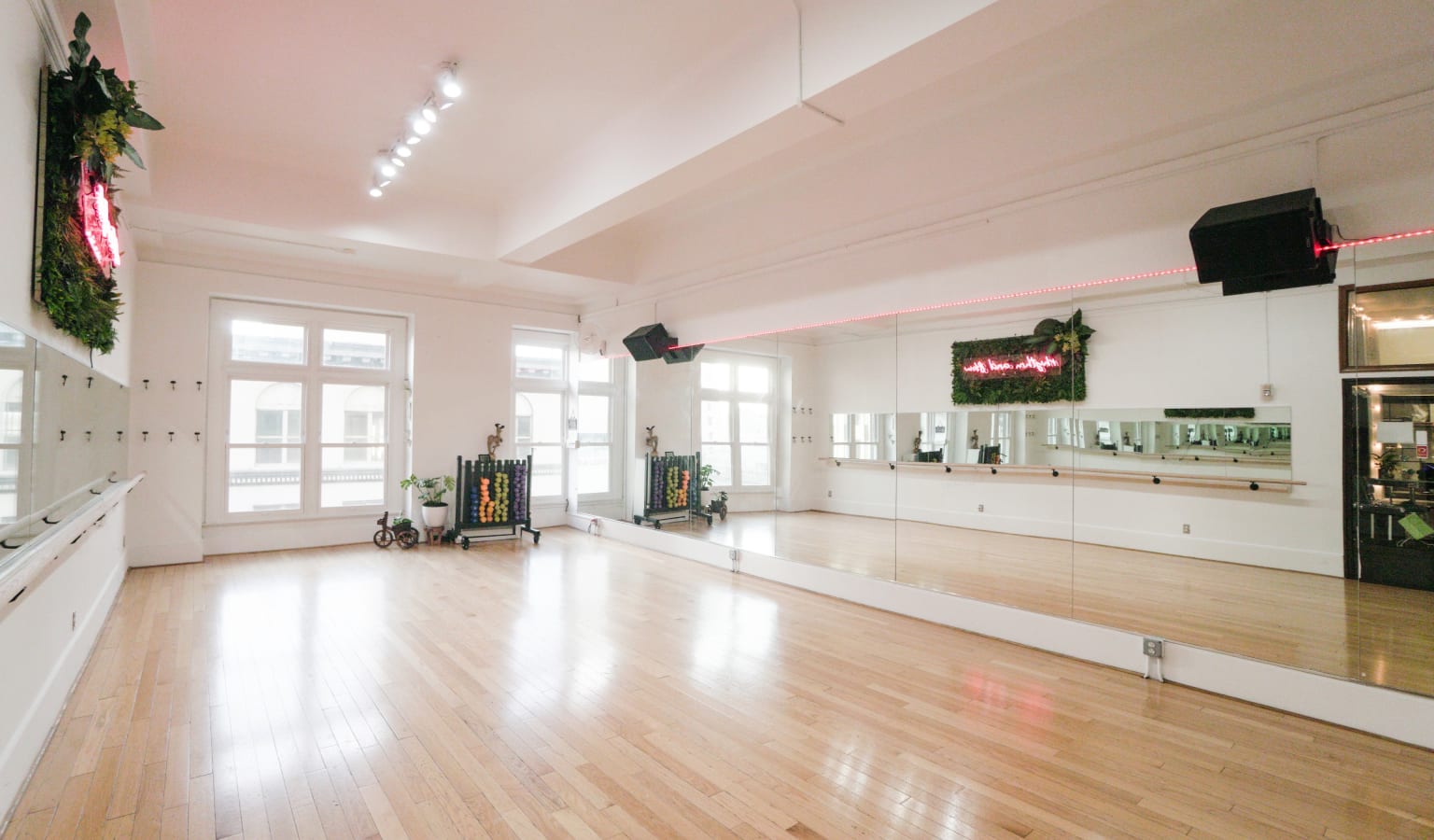 Studio 2 is a for-hire studio in San Francisco with lots of natural light. It's great for private lessons, video shoots, small fitness events or workshops, or photoshoot needs. This space features a dance studio, various photography backgrounds, wall-to-wall mirrors, 2x speakers, great sound systems, and different light options. The studio is blocked out for weekly classes, so make sure to check availability first.
6. RS94109
Location:       835  Larkin Street San Francisco, CA 94109
Capacity:       125
Price:              $175/hr (Minimum of 4 hours)
Nearest Bus:  4 minutes from Geary Blvd & Laguna St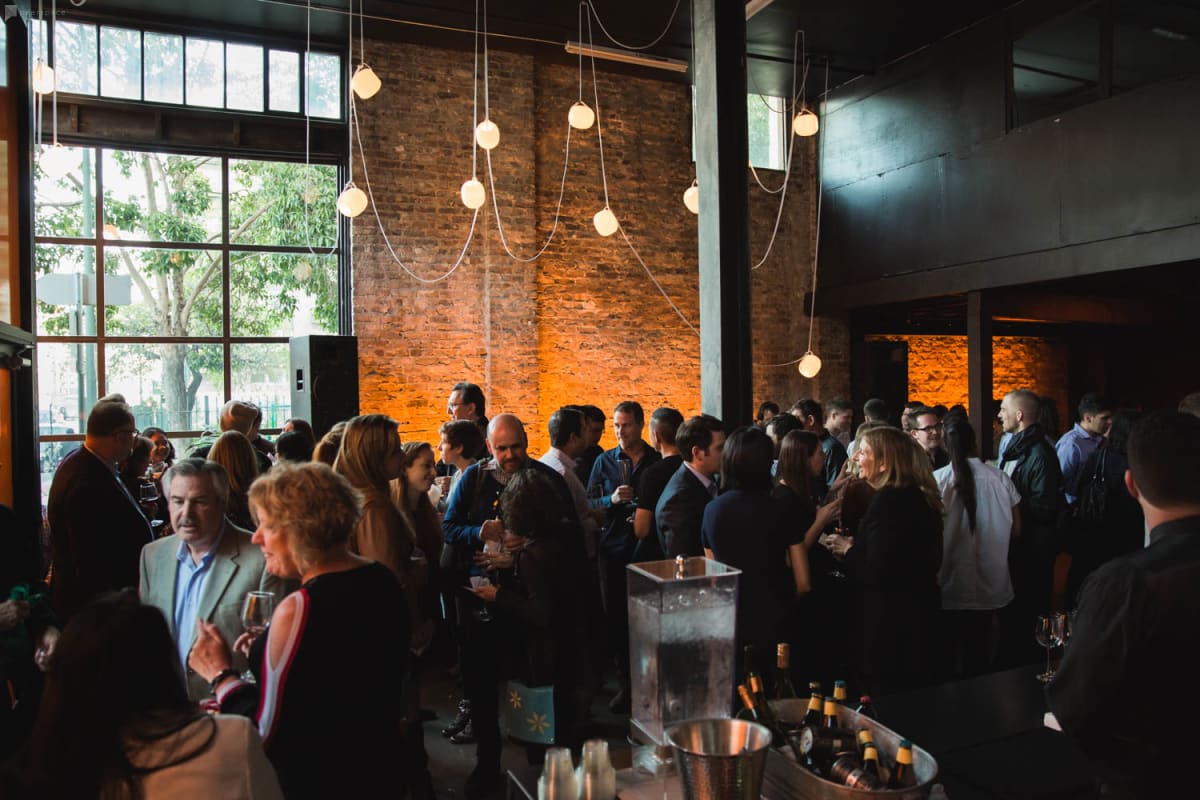 RS94109 is an interesting event space in San Francisco. It's a record store and café with an avant-garde venue for hire. It's the perfect space for hosting wedding receptions, dinner parties, dance parties, album releases, or corporate mixers.
The space features a contemporary, industrial style with concrete, steel, and exposed brick adorning it. It sports a custom sound system with access to a range of DJs who can provide a full range of services for any event type. The RS94109 also offers full bar service for private rentals.
7. International Hotel Manilatown Center
Location:       868 Kearny Street, San Francisco, CA 94108
Capacity:       75
Price:              $75/hr (Minimum of 3 hours)
Nearest Bus:  3 minutes from Pacific Ave & Grant Ave

The International Hotel Manilatown Center is a fluid and flexible space ideal if you're hosting exhibits, performances, or film showings. It serves as a multipurpose community gathering space for creative expressions and a memorial of the historic Manilatown neighborhood. This space offers exhibit/display areas as well as a performance area. It's an excellent backdrop for formal classes and informal encounters where guests can share stories, teach, and learn.
8. Belle Cora
Location:       565 Green Street, San Francisco, CA 94133
Capacity:       75
Price:              $200/hr (Minimum of 2 hours)
Nearest Bus:  2 minutes from Union St & Columbus Ave

At the base of Telegraph Hill in North Beach is Belle Cora. It's a cozy venue nodding to the city's rich history. Belle Cora offers 30+ wines by the glass, six beers on tap, an eclectic option of bottled beers, and a kitchen serving small-plate fare, perfect for parties or events.  With its warm red, tufted-cushion banquette seating area and a gleaming Redwood bar top, it offers a unique option for parties, anniversary celebrations, book signings, weddings, and even small jazz shows.
9. San Francisco Italian Athletic Club
Location:       1630 Stockton Street, San Francisco, CA 94133
Capacity:       350
Price:              $500
Nearest Bus:  1 minute from Union St & Columbus Ave

If you're looking for a low-cost venue, the San Francisco Italian Athletic Club's historical building is an excellent hotel alternative at a good value.
Located just at North Beach's heart, it's a unique and ideal location for a city event. Your guests get to enjoy exquisite Italian food cooked in-house while you get to plan and customize your event just as you always wanted and imagined with a blank canvas. The venue also offers customizable menus that fit your appetite and budget.