Hiring an event caterer makes an event less stressful for any event planner, enabling you to concentrate on all other aspects of your event. Edinburgh, UK, has a plethora of low-cost and high-quality event caterers who can help make your event a success. We have created a list of 9 affordable event caterers to hire, perfect for any event.

Whether you choose from their menu or create your own, everything is freshly made with great care, thanks to their love of food and making people happy. The Embo Deli may be small, but what it lacks in space makes up for a warm welcome and delicious, visually appealing food.
Sample Menu (Cold and Hot Food):
Caribbean Sweet Potato & Black Bean Curry
Moroccan Squash, Spinach, and Chickpea Tagine ( Vegan & GF)
Chunky Beef Chili with Rice.
Beef Lasagne
Sample Package (Cold and Hot Food):
Individual/Premium lunch box wrap
Individual/Premium lunch box Salad
Mac 'n' Cheese with or without bacon
Roasted Chicken Thighs with Cherry Tomatoes, Thyme, and Baby Potatoes

Fox & Co.'s speciality is outside catering! They can accommodate any event, any taste, and any budget. Not only that, but they can make anything from a sandwich platter for four people to canapés for 200 people. They are fully licensed to provide drinks for your event, collaborating with local businesses to offer glassware and crockery.
Sample Menu
Chicken, chickpea, and spinach curry
Chicken and mushroom stroganoff
Sweet potato and chickpea curry
Leek, green pea and pesto lasagne
Sample Package
Classic hot breakfast platter
Veggie hot breakfast platter
Continental breakfast
Healthy platter

The Heritage Portfolio is well-known for creating memories! Founded in 2002, Heritage Portfolio has consistently provided outstanding food and catering services in Edinburgh. They offer their services to any event, be it a private party, wedding or corporate event. Beyond serving excellent food, they work hard to ensure event attendees have a memorable dining experience.
Sample Menu
Asparagus with air-dried ham and sun-kissed tomatoes.
Monkfish and prunes in a slither of smoky bacon.
Tataki of Scotch beef, sprouting peas, and pickled ginger.
Brioche box with sticky shallots, flash-fried foie gras, and tonka beans.
Sample Canapes
Hot venison chipolatas roasted in sticky red currant syrup.
Crisp applewood smoked cheese and celery tart.
Little sushi rice balls, pickled ginger, and crayfish rolled in sesame seeds.
Queenie scallop with pea puree and homemade ketchup

With over 30 years of food and catering experience, Food By Xanders provides delicious food in and around Edinburgh from their city centre kitchen. They take pride in using local suppliers for produce and other ingredients. Run by Malcolm and Baiba, a very enthusiastic husband and wife team passionate about the great food, they offer a professional, friendly service.
Sample Menu
Thai green chicken curry with basmati rice
Beef Bourguignon with roasted baby potatoes
Salmon en route with seasonal greens and boiled potatoes
Mixed mushroom and red pepper stroganoff with boiled rice
Sample Package
Vegan buffet
Cold meat platters
Vegetarian platter
Fish platter

Ginger Snap is a family-run wedding and event catering company in Houston, Hethersgill, Carlisle. They have been creating food and beverage experiences that are the heart of the party for the past 15 years, bringing friends and families together and leaving happy memories for years to come.
Sample Menu
Beef Short-rib
Horseradish Mash
Buttered Greens
Sample Canapes
Scallop Roe Cracker, Crème Fraiche & English Caviar
Reindeer Moss, Redcurrant, Chanterelle, Artichoke Cream
Ox Tongue, Yeast Glaze, Crispy Shallots, Capers, Mustard Mayo
Jerusalem Artichoke, Goat's Curd, Thyme

The Edinburgh Catering Company aims to provide their customers with a dining experience unlike any other. They create outstanding, tailored menus and deliver seamless events by collaborating with high-quality, local producers whenever possible. Their team is unrivalled in their passion for fantastic food and first-rate service. Their standards are high, and they strive to exceed expectations.
Sample Menu
Butter Roasted celeriac, cauliflower puree, and puy lentils with pickled baby vegetables and caper butter
Beetroot and goat's cheese gratin with pumpkinseed and endive salad
Potato and taleggio pithivier with braised red cabbage, tenderstem broccoli, hazelnuts, and port sauce
Sample Desserts
Heather honey panna cotta with oat crumble
Honeycomb and raspberries

The Hickory Kitchen has spent the last year honing their skills and creating exciting menus for people to enjoy in their own homes. This award-winning catering company use only the freshest local ingredients and create exciting menus beautifully plated. Here to ignite the senses, they can cater anything from a few people around a table to 600+ plus attendees.
Sample Menu
Raw risotto of sprouted grains, orange, pumpkin seed, and ancho chilli salsa with corianderEggplant.'
Dengaku', puffed soba noodles, grilled Choi sum, and a pickled radish salad
Slow roasted collar of squash romesco sauce, edamame salsa, watercress, cauliflower, and apple salad
Cashew ricotta gnocchi, kale pesto, chickpeas, and broccoli
Sample Canapes
Lightly pickled ourgetti ribbons with hummus and dukkah spice
Cherry tomato filled with puy lentils in balsamic vinaigrette
Cucumber ribbons with pickled ginger, mange tout, and radish
Pan-seared watermelon cubes with tomato sambal and basil

Pinkerton's is a small, tight-knit group of experienced chefs and event managers that share their love of food. They appreciate honest food and good ingredients, ensuring these are the foundation of all of their cooking. They cater to any event of any size. Pinkerton takes great pride in their highly skilled chefs, their ability to whip up delectable meals, and their front house staff experts in event planning.
Sample Menu
Cured Scottish beef filet Horseradish dressing Inverloch goats cheddar shavings with Mustard leaves
Slow roast pork belly Warm carrot and celeriac and mustard slaw
Crowdie and heather honey cheesecake Poached pear
Sea Bass with clams en papillote with a tarragon beurre blanc
Sample Canapes
Curried prawns and green mango poppadom bite
Beetroot blinis with horseradish and smoked salmon
Yorkshire with chimichurri steak and watercress
Venison Carpaccio, mini rosti, chive cream and redcurrant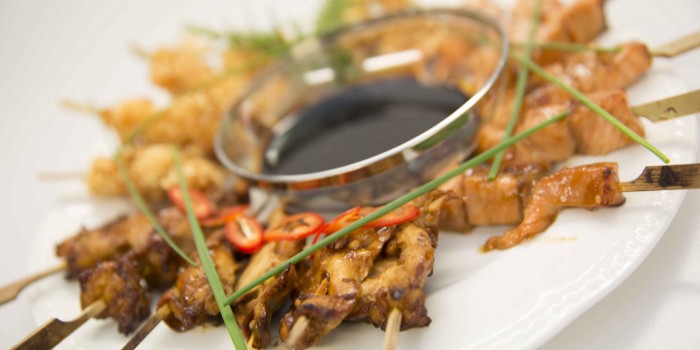 BIEN Catering has over 20 years of experience serving hot and cold food in the boardrooms of some of Scotland's most prestigious companies. The team at BIEN Catering is passionate and focused on creating and serving the best possible food experience and will happily work to any budget. They enjoy catering for any event, from small lunch parties to large corporate events and anything in between.
Sample Menu
Chicken and mushroom stroganoff
Chicken and chorizo sausage paella
Chicken and coriander lasagne
Chargrilled chicken with sweet chilli noodles
Sample Canapes
Dill mayonnaise crouton, oak-smoked salmon with pickled cucumber
Butterfly king prawn with peeled cucumber and guacamole
Prawn risotto squares with tikka mayonnaise and quails egg
Chicken tikka on mini naan with mint yoghurt and mango chutney
Any of the mentioned event caterers above is a good one. Ensuring good communication is essential for any relationship, and outlining plans and expectations is critical to a successful collaboration.