New York City is the biggest city in the United States and is bustling with events every day of the week. As a result, there are many event caterers in the city, some of which have long-established experience in the industry. With so many choices, where do you find affordable while providing you delicious food and quality service? To answer this question, we've listed down the ten affordable event caterers in New York City for you to hire for your next event.

Located at 25 Eastern Pkwy, Brooklyn, NY, Night Kitchen Catering is led by two talented people: head chef Aaron and event coordinator Angela. The team provides seasonal menu selections, making sure only to use the freshest and best ingredients for each season. You'll find that their food packages are all seasonally appropriate, so you won't have any worry about finding the right food for your event.
Sample Menu (Spring Plated Package):
Housemade Rosemary Bread with Olive Oil
Leek and Spring Pea Lamb Stew
Broiled Grapefruit Bergamot Custard
Sample Food Packages:
Spring Plated
MidSummer Buffet
Autumn International Floating Dinner
Winter Family Style

Oak & Honey Catering aims to make your events as delicious and easy as possible. Located in Brookly, New York, the team headed by chef and owner Zachary Mayer offers seasonal menus and delicious menus paired with approachable service and sustainable ingredients and materials. You may also request drop-off catering, with food ready-to-serve platters for any corporate, production, or social events. All packaging is also compostable with eco-friendly cutlery.
Sample Menu (Fall Passed Canapés Package):
Goat Cheese Crostini
Braised Beef Sliders
Brioche Grilled Cheese
Smoked Salmon Tartine
Sample Food Packages:
Fall Passed Canapés
Winter Family Style
Summer Cocktail Party

Enjoy fresh and experienced catering services at Real Food Catering. Showcasing various event catering awards, it's no surprise that it's one of the most recommended affordable event caterers in NY. The team caterers to both weddings and corporate events. When exploring their food packages, you'll find that they have an extensive range of options to choose from. For instance, they have seafood, poultry, beef/lamb, pork, and vegetarian options to cater to clients' different tastes.
Sample Menu (Classic Seated Dinner Package):
Traditional Caesar Salad
Rock Salt Grilled Salmon with Spring Herbs
Pan-Seared Sesame Chicken Breast
Roasted Asparagus
Mediterranean Pasta
Sample Food Packages:
Cocktail Hour
Floating Dinner
Buffet
Seated
Dessert & Petits Fours
4.   Feast On Us

Feast On Us has been in the catering business for almost 25 years! Whether intimate meetings or large-scale black-tie galas, it is the top choice for event catering in New York. Not only do they offer delicious food made by experienced chefs, but they also help you find inspiring ideas for your meals during your events.
Sample Menu (Gourmet Lunch Package):
Egg Burrito
Fresh Mini Bagels With Cream Cheese And Jelly/Jams
Granola Fruit Bar
Fresh Assorted Fruit Cup
Homemade Pastries
Individual Yogurt Cups
Sample Food Packages:
Gourmet Lunch
Hors d'oeuvres
Sandwich
Brunch
Kids
American
Mediterranean
Create Your Own
5.   Bites BK

Bites BK is a caterer based in Brooklyn with Caribbean-inspired dishes. The team offers lots of variety in smell, flavour, and texture meals. They also deliver outstanding visual presentations that are creative and will tantalize your senses. Some of their specialities include hand-crafted appetizers and desserts. The team is also ready to accommodate intimate events at home or formal functions in large venues.
Sample Menu (Bites Package):
Crostinis
Wings
Empanadas
Vegetable Spring Rolls
Sample Food Packages:
Bites
Brunch Bites
Treats
Game Day
Corporate and Private Engagement
Dessert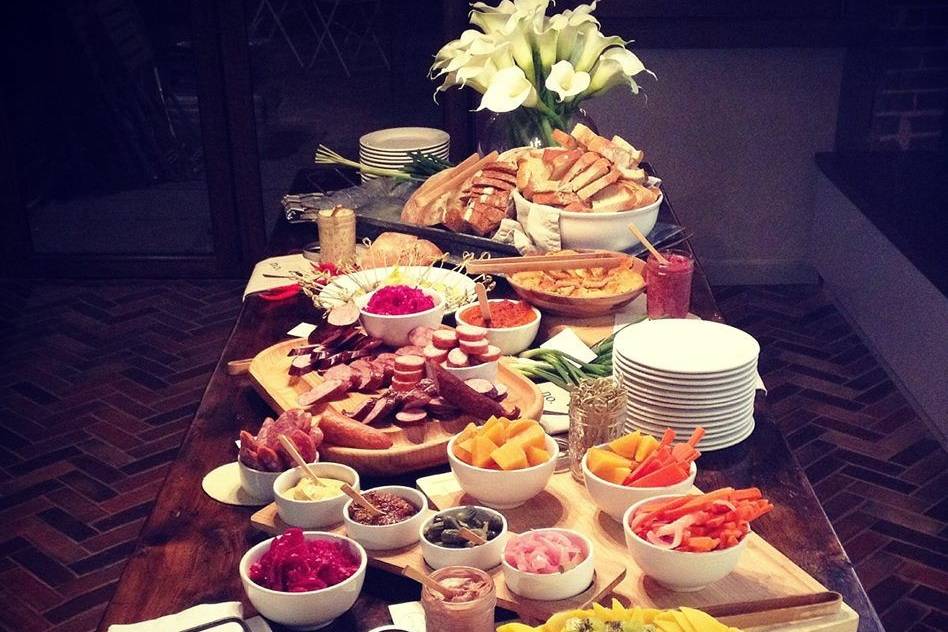 Since 2005, Red Table Catering has been a proud Williamsburg caterer, offering its services all around the New York Metropolitan area. They combine adventurous and global palate while using only the freshest local ingredients. Other than their available menus, they also work with clients to create customized menus for all types of events.
Sample Menu (The Highline Package):
Artisan lettuces, heirloom tomatoes, and lemon-dijon vinaigrette
NY strip steak, portabella mushrooms, red onions
Roasted chicken with herbes de Provence and garlic
Butternut squash cavatelli with parmesan sauce
Sample Food Packages:
The Highline
The Upper Westsider
Hudson Yards
Little Italy

Rosehill Caterers has been offering catering services in New York City since 2010. They create world cuisines and flavorful dishes to impress guests with distinctive palates. Moreover, they pride themselves on buying and using only local, fresh, and organic ingredients. Of course, the team also creates a fresh, vibrant presentation for all their dishes.
To offer complete satisfaction to their guests, the company also provides professional and friendly service at affordable rates.
Sample Food Packages:
Breakfast
Brunch and Appetizers
Salads
Minis
Sandwiches and Lunch Boxes
Lunch and Dinner Buffets
Sweets
8.   Deborah Miller Catering & Events

Deborah Miller Catering & Events is another catering company on this list with a long history. Established in 1995, their team has garnered plenty of experience working with diverse clients. They offer off-premise catering for corporate, institutional, and social events at various venues around New York City. Their specialities include healthy & diet-friendly meals and bar catering.
Sample Menu (Breakfast Package):
Fresh Seasonal Fruit Salad
Assorted Scones
Overnight Oats
Assorted Muffins
NYC Coffee Cake
Greek Yogurt Parfait
Sample Food Packages:
Breakfast
Lunch
Hors d'Oeuvres
Small Plates
Dessert
9.   LCI Caterers

LCI International Catering Company is one of the most diverse caterers in NYC. They have a talented team that can cook dishes from many nationalities to suit the needs of your guests. Head chef and owner Joseph Cutolo founded the company in 1999. With his passion for food, he travelled the world, mastered their food, and experienced their culture.
Sample Menu (Family Style Package):
Salads
Homemade Fusilli Calabrese
Boneless Breast of Chicken
Burgundy Beef Medallions
Fire Roasted Seasonal Vegetables
Baby tri-colour Roasted Potatoes
Sample Food Packages:
Hot Buffet
Food Stations
Family Style
Cocktail Hour
Dessert
10.   The Freakin Rican Restaurant

If you're looking for affordable catering with authentic Puerto Rican Cuisine, then The Freakin Rican Restaurant caterers are your best choice. It is a proud company that creates healthy dishes that showcase Puerto Rican heritage. The restaurant's proud owner and head chef, Derick Lopez, established the company in 2014, creating a brand that has since become a household name with over 450k+ followers on social media!
Sample Menu:
Empanadas
Sancocho
Ensalada de Casa
Chicharron de Pollo
Arroz con Gandules
Sample Food Packages:
Media Bandeja (for 10 to 15 people)
Bandeja (for 20 to 30 people)
We hope that you find your ideal event caterer in New York City on our list. If you have narrowed down your choices to a few, make sure to schedule a call with each caterer to inquire more about their services and their menu. Doing so will ensure that you'll end up working with only the best.